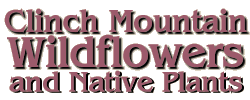 Here are some plants that grow in the area where I live. All these plants can be found on or near Clinch Mountain, Holston River, or Clinch River in Scott County which is in the southwestern part of Virginia. Each item in the list includes a link to a page on the WWW where you can find out more information. Items marked with a * indicate a link to a description and photograph that I have taken within the area mentioned above.
Wildflowers:
These wildflowers can be found growing naturally beside or behind my house.
Pink Lady's Slipper
May Apple*
Rattlesnake Plantain
Fire Pink
Indian Pipe*
Blue Eyed Grass
Violet Wood Sorrel*
Trumpet Vine
Field Pansy*
Morning Glory
Bloodroot
Cardinal Flower
Wild Ginger
Rat's Vein*
Queen Anne's Lace
Yellow Wood Sorrel*
Black Eyed Susan
Goldenrod
Bear Grass
Venus' Looking-Glass*
Pasture Rose
Goat's Rue
Johnny Jump-Up
Halberd-Leaved Violet*
Periwinkle
Rosebud Orchid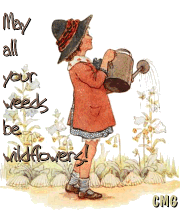 These wildflowers can be found within a few miles of my home.
Wood Poppy
Wild Columbine
Jack in the Pulpit
Virginia Bluebells
Wood Anemone
Spring Beauty
Wild Geranium*
White Trillium
Solomon's Seal
Yellow Root
Nodding Mandarin*
Twinleaf
Wild Clematis
Squirrel Corn
Dwarf Iris
Trout Lily
Waterleaf
Dutchman's Britches
Butterfly Weed
Foam Flower
Red Trillium*
Large-Flowered Bellwort*
Wild Phlox
Rue Anemone*
Wild Stonecrop
False Solomon's Seal
Bulbous Buttercup
Dwarf Cinquefoil*
Whorled Loosestrife
Deptford Pink
Purple Beebalm
Spring Larkspur
Bluets
Hepatica
Native Shrubs:
Mountain Laurel
Honeysuckle Azalea*
Rhododendron
Bittersweet
Sumac

Native Trees:
Hemlock
Dogwood
(The state flower of Virginia)
Holly
Cedar
Red Maple
Redbud
Service Tree
Pawpaw
Hickory
Mimosa
Box Elder
Sourwood
Sassafras
Elm
Chinquapin Oak
Persimmon
Walnut
Other Native Plants:
Reed
Blackberry
Dewberry
Cattail
Galax*
Running Cedar*
Grape
Poke
Mountain Tea*
Poison Ivy
Lady Fern*
Graphics for this Native Plants page created by me at: