Come on in and make yourself at home here in Hiltons, VA. Feel free to browse around a while. I hope you find something you like. I've included some of the things I enjoy doing in my spare time. I've also got links to my favorite sites. Be sure to drop me a line before you leave using the e-mail button below or you can sign my guestbook.
Those of you familiar with old-time country music will recognize My Clinch Mountain Home as the title of a song by The Carter Family. A.P., Sara, and Maybelle lived in a little community called Mace's Spring which is about three miles east of Hiltons. Janette Carter, A.P. and Sara's daughter, still carries on the tradition of her parents' music at the Carter Family Fold every Saturday night.
Hiltons has changed since the days of the Carter Family, but it's still a great place to live. It is my hope that, by browsing through my web site, you will get a sense of what life is like here at the foot of Clinch Mountain. I'm always redecorating so be sure to come back and visit again soon!
Last updated June 24, 2001.

| | |
| --- | --- |
| | Includes my paternal ancestors, my maternal ancestors, deeds, wills, biographies, and my Melungeon heritage. |

| | |
| --- | --- |
| | My favorite family recipes for main dishes, veggies, breads, desserts, canning, and apples. |

| | |
| --- | --- |
| | We have a new Collie puppy named Duchess. We got her when she was 11 weeks old and she is now 4 months old. She is sable and white. She is such a joy, especially for our daughter, Amanda. |

| | |
| --- | --- |
| | Here you'll find my hometown of Rose Hill, VA as well as Hiltons, Scott County and the surrounding area, and a poem I wrote about growing up in Southwest Virginia. |

| | |
| --- | --- |
| | These pages are just for fun! They include country words and definitions, remedies, adages, similes, and rhymes I used to hear as a child. |

| | |
| --- | --- |
| | My Clinch Mountain Graphics site has tiled backgrounds, bordered backgrounds, background sets, and miscellaneous graphics. They all have a country look -- and they're all free. |

| | |
| --- | --- |
| | The Nickels Family History includes Keith's paternal ancestors, a Civil War page, pension lists, tax lists, deeds, wills, church minutes, a queries and comments page, photographs from the Charles F. Nickels collection, and information about the Nickels Family Association. |

| | |
| --- | --- |
| | Amanda has a page of Cool Stuff with background music and Links to some of her favorite web sites. |

| | |
| --- | --- |
| | Our original web site includes photographs of our ancestors, a surname list and index with links to our ancestry charts, and photographs we have taken in Southwest Virginia. |







Want to join the Ring ?
I Am A Proud Member Of: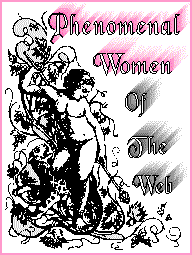 Phenomenal Women Of The Web
Thank you for being guest number
since June 22, 1999